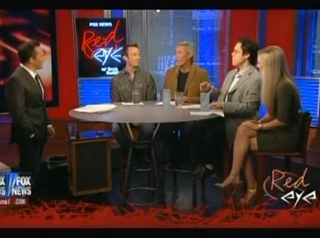 The three-year-late Sarah Palin email dump has yet to produce any illegal behavior or seedy language (other than some talk about rock bands), but it certainly has raised some suspicion on her aesthetic choices– namely, her contemplation of installing a tanning bed in the governor's mansion. Last night/this morning, the Red Eye crew explored the recent developments from the release and the potential scandals that could actually harm Palin's reputation.
In the latter category, panelist Karl Zahn gave the definitive word– only "an email where she and Todd were wrestling midgets naked" could do anything to her career, particularly in light of Rep. Anthony Weiner's transgressions. Host Greg Gutfeld noted the only actual "scandal" in the emails so far was the tanning bed issue, which some on the panel were willing to forgive.
Matt McCall, who called the entire ordeal a "witch hunt," argued that "if her Weinergate is getting a tanning bed," there was little to worry about on Palin's part, but fellow panelist Anna Gilligan lamented that Palin had not yet "learned the values of a spray tan." Rounding out the discussion was John DeVore's hopeful-sounding prediction that "millions of liberals aren't going to be going outside" to read the emails, and Gutfeld's possibly projecting claim that email should only be used for "discussing your hangover, trying to buy drugs, or cheating on your spouse."
The panel also had a profound discussion on the merits of Sizzlean, a product of the 1970s and 80s marketed as a healthy alternative to bacon. The product failed, Gutfeld explained, when people figured out that bacon was "God's food." For those who did not live the era (where, apparently, it was only acceptable to eat drunk or when penniless), the product proved difficult to describe, even for ombudsman Andy Levy who found some wholesale outlets still sold it. Zahn tried to explain the delicacy comparing to steak, the way "spam is pork roast for Spanish people," which is a funny joke, but not as hilarious as the dry, tasteless lumps of flesh Anglo-Americans try to pass off as edible pork. Anyway, the point here was that the Palin emails were the Sizzlean to the red meat of actual scandalous news.
The segment via Fox News below:

Have a tip we should know? [email protected]