Red Eye Panel On Al Qaeda's Fox News Bashing: Sounds Like It Was Written By Media Matters!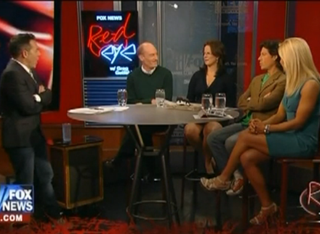 Al Qaeda's leadership decided to take some time off from trying to kill America to rate our media outlets last week, apparently, and the team at Red Eye were very happy to hear that, while Al Qaeda media adviser (yes, that's a real thing) Adam Gadahn thought many news networks were mostly fair, he called for Fox News to "die in her anger" as it "falls into the abyss." After all, the panel agreed, if Al Qaeda likes how they are being covered on your network, isn't that a bad thing?

RELATED: Fox News Is Al Qaeda's Least Favorite Network
Host Greg Gutfeld first read the relevant quotes from Al Qaeda in question, namely:
"It should be sent for example to ABC, CBS, NBC, and CNN and maybe PBS and VOA. As for Fox News let her die in her anger," Gadahn wrote. At another point, he said of the networks: "From a professional point of view, they are all on one level — except (Fox News) channel, which falls into the abyss as you know, and lacks objectivity, too."
"Sounds like it was written by media matters!" he joked, "It's like Hitler finding you irritating." The panel agreed, with Fox Business' Liz MacDonald noting that it was perhaps because Fox called Bin Laden a "homicidal religious serial killer maniac, whereas other called him a freedom fighter." Rep. Thad McCotter could not understand how one could be "objective" about the terror group, adding, "Fox should take this as a badge of honor, and the other networks should look at their PR and say 'what's wrong with you?'"
The comments about how the terror group believed Vice President Joe Biden was entirely unprepared for the job bothered Anna Kooiman the most, who argued that this made the importance of the bottom half of a presidential ticket very clear. Bill Schulz defended the Vice President, however, and his posture: "the guy is no slouch when it comes to foreign affairs."
The panel also discussed the important point that their rebranding was prompted by their rejection by the greater Muslim community, with Rep. McCotter noting that Bin Laden ended up "an idiot reduced to raving in a bunker" and MacDonald objecting to intrusive and unconstitutional surveillance measures made on Muslims that had nothing to do with terrorism in New York.
With the Halftime Report rolled around Andy Levy, who came packed with fast-food/terror network fusions (Qaeda Hut, QFC) and this totally real and not at all a joke letter from Osama Bin Laden about the only show on Fox he could stand:
"That show that comes on late at night with the tiny Jew host and the midtime Jew in the other room who sometimes is also hosting and the sidekick of repulsion. Truly, they are making me have the giggles and I am loving the videos with the kitties. Also, is Bill gay? I cannot decide. Anyway, death to America."
The segment via Fox News below:
Have a tip we should know? [email protected]