Red Eye Panel On Obama's Pot Past: He's Evolved On Gay Marriage But Devolved On Marijuana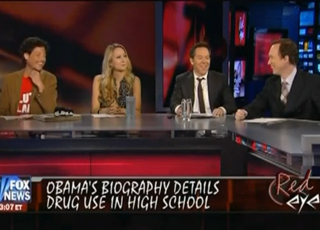 With an upcoming biography of President Barack Obama on it way, new details about his life as a youth are slowly emerging, including the detail of how he would "intercept" marijuana cigarettes going about a circle of friends and take an extra puff when it wasn't his turn. "He was a fan of taking other people's stuff?" Red Eye's Andy Levy, hosting last night, quipped. "Thank God he grew out of that phase!"

RELATED: Why Won't President Obama Support Our Right To 'Choom' A Doobie Like He Did?
Except for Levy, the panel seemed to agree that the stories of the President having fun were "one more thing that makes him look cool," as Tom Shillue put it (Levy disagreed because he allegedly took more hits than were allotted him). After a requisite Tim Tebow "interception" joke from Bill Schulz, panelist (!) Greg Gutfeld hopped in to make a serious point: that the story proved "the background of our world leaders are inching closer to our own." He also made the point that the President was "a socialist who should be impeached," but only because the show was being broadcast in the Hannity studio.
"Obama has apparently evolved on gay marriage but devolved when it comes to all things marijuana," Schulz argued, and while he did see Levy's logic in the President's predilection for taking other people's marijuana in an untimely way, "I would take a guy who bogarts a joint over one physically assaulting a gay kid any day of the week." Panelist Nikki Glaser thought the story was great though, and confessed she had reason to identify with the President's past.
"Isn't it the hypocrisy here?" Levy asked, to which Shillue replied, "yeah, he should lay off that!" without any particular further comment. Gutfeld recalled the argument Penn Jillette made earlier this week, that the President would never have been able to rise to the presidency had the laws he currently enforces been used against him.
The segment via Fox News below:

Have a tip we should know? tips@mediaite.com