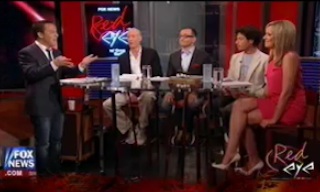 On Fox News' Red Eye Thursday morning, Greg Gutfeld and his co-panelists took on the controversy brewing over smut magazine Hustler featuring conservative columnist S.E. Cupp in a Photoshopped, sexually-explicit photograph.
Gutfeld thought Cupp should sue the magazine for defamation. "This picture could be on the internet forever, and it could be viewed without the context of the article, meaning that thing could…be viewed without context. You don't know it is made up. Why can't she sue? Why can't this be defamation? If it is words it can be defamation, but in pictures it is not?" Gutfeld asked.
RELATED: Explicit Image Of S.E. Cupp (It's A Fake) In Hustler Magazine Sparks Outrage
"I am not going to recall the name of the preacher gentleman down South where there is a Supreme Court case that was brought," co-panelist Sandra Smith noted, referring to Hustler Magazine v. Falwell. "He brought it upon the Supreme Court. The Supreme Court ruled that the First Amendment right was Hustler — Larry Flynt and Hustler won because it was under the understanding that it was so absurd it couldn't be true. Unfortunately, not everybody knows S.E. Cupp and, in the internet age, it could be posted without context. And it is very unfortunate. It is crude and degrading."
Comedian Joe Devuto said he was disappointed in Hustler for their actions.
"If you can't turn to Hustler magazine for reasoned political discourse, I don't know what the world is coming to," he cracked.
Gutfeld again pressed that he felt Cupp had a case against the publication.
"I think this is different in the era of the web, it can exist without the other stuff," Gutfeld said. "And it could show up when you google her. I think she might have a case here."
Later on in the show, Andy Levy joked that the Photoshop was a conspiracy.
"I know S.C. Cupp; we are good friends. As far as I'm concerned she probably corroborated with Hustler on this just to get more Twitter followers."
Despite Gutfeld and Smith's earlier contentions, he thought that, ultimately, Cupp wouldn't be able to sue.
Watch the panel discussion below via Fox News:
Have a tip we should know? tips@mediaite.com