Red Eye Panel Thanks Rep. Anthony Weiner For A Week Of Inevitable Weiner Jokes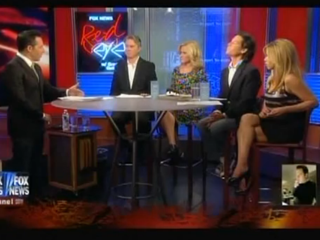 The Red Eye panel know a gift when they see one, and so host Greg Gutfeld began the fourth program to feature Rep. Anthony Weiner's indecent possible tweets by thanking the Congressman for the material. But Gutfeld and his panel for the night also advised the Congressman to be forthcoming with the photos and stop "panicking," lest the hesitation sentence him in the public eye.
The night's "Gregalogue" showcased a number of unsavory characters who Gutfeld gave the audience a choice among, which is probably the best person to be right now. Among that illustrious list were Larry Craig, John Edwards, "sleazy French socialist" Dominique Strauss-Kahn, and, yes, Rep. Weiner. Gutfeld didn't seem to understand why Rep. Weiner "panicked," but was thankful for the story.
The panel, meanwhile, had several different takes on how this possibly became a story– regular Lauren Sivan called it a case of "males being males" and found one positive message of the whole ordeal: more women should hold public office, as they are less prone to do– as she visually mimed– what Rep. Weiner is alleged to have done. Bill Whittle, meanwhile, didn't dismiss the possibility that some cataclysmic disaster could peel Rep. Weiner away from the headlines enough for him to survive politically, though most of the panel agreed this would likely not sink him because, as Bernadette Pauley noted, "there's no shame anymore." Pauley, on her part, was more concerned about the future of alleged photo recipient Gennette Cordova, who she strongly urged to land a reality TV contract.
The segment via Fox News below:

Have a tip we should know? tips@mediaite.com