Red Eye Panelist On Obama's 'Learning' Comments: Stop Learning, Start Delivering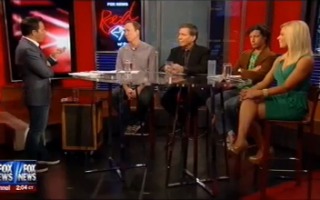 Red Eye host Greg Gutfeld led his panel through the recent twists and turns President Barack Obama's identity has taken with his remark about not being able to "change Washington from the inside." Is the President, Gutfeld asked, simply a sheep in wolf's clothing? Or possibly a wolf in sheep's clothing? Or maybe even some non-hoping and/or non-changing guy wearing "Hope & Change" clothing? Or… something?
Gutfeld posited that, in fact, the only way to keep government from growing is to actually keep Washington just how it is — full of hatred and vitriol.
Panelist and comedian Tom Shillue then voiced his annoyance with Obama's talk of "learning something." This isn't Reading Rainbow, he argued: Learn to a point, and then — when you're in office — deliver on and apply that knowledge.
As for Mitt Romney's luminous, orange appearance during his Univision Q & A, the panel agreed ("agreed") that the left was simply being racist for going after the GOP candidate's rich mahogany sheen. They also thought that Romney's tax returns were on par with the release of Sarah Palin's emails — there's simply nothing interesting there. After all, Shillue pointed out, rich guys "don't mess around" when it comes to holding on to their money.
As for Romney's sizable charitable donations, Bill Shulz wondered whether the Mormon Church really counts as a charity, with Gutfeld arguing that the Church does much more charitable work much more efficiently than, say, the government. Shulz wasn't convinced, saying that it does "equal parts charity and PR."
Have a lil' look, via Fox News:
Have a tip we should know? [email protected]