Red Eye Takes On 'Depraved' Samsung Sexual Santa Ad: Greg Gutfeld Is Disgusted, Guests Don't Seem To Care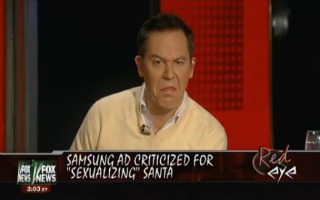 Red Eye host Greg Gutfeld took on the controversy surrounding Samsung's sexual Santa ad and played Devil's advocate for his guests. Gutfeld jested he found the ad "disgusting," "sick and depraved." His guests? They barely batted an eyelash.
Host of Big Morning Buzz Live Carrie Keagan didn't find the ad upsetting at all and The Daily Beast's Michael Moynihan jokingly suggested we should arrest the makers of the ad because it's an "offense against nature." He referenced the very network he was on, saying situations like this are when "conservatives get annoyingly P.C."
Gutfeld suggested the ad can be "addressed" without outrage, to which Moynihan responded "But why do you even have to address it?" After Moynihan questioned who "that woman" was (Mrs. Claus), he went on to note that he didn't know the answer because he was Jewish. When Keagan said she thought Moynihan was an athiest, Gutfeld admonished her not to say "that word" because "advertisers hate it."
Comedian Tom Cotter was simply surprised Santa and Mrs. Claus still maintained a sexual relationship, because he thought Santa was gay. Fox News contributor Bill Schulz also didn't have a problem with the seemingly sexual ad, but was disgusted by the idea of Mrs. Claus making a sexy video.
Gutfeld, for his part, commented that his main problem with the ad was that it evidences that there are no longer boundaries in society. He asked guests, "Could the Easter Bunny have a three-way with the Tooth Fairy and Winnie The Pooh?" Moynihan accused Gutfeld of having "explosions of Christian conservatism" and asked whether he was really that upset. Gutfeld claimed he wasn't, but that it was his job to "play the role" of someone who points out that we're moving away from any societal confines at all.
Watch the full clip below, via Fox News:

In the Half-Time Report, Andy Levy came on to tell Keagan that she was a "delight" and tell other panelists that Mrs. Claus' first name is actually "Leila." He also said he didn't want to see "old people" engaging in anything sexual, to which Gutfeld agreed.
Watch the half-time report:

—
>> Follow Anjali Sareen (@AnjaliSareen) On Twitter
Have a tip we should know? tips@mediaite.com