Red Eye Takes On Jenna Jameson's Support For Romney And Crucial Porn Star Vote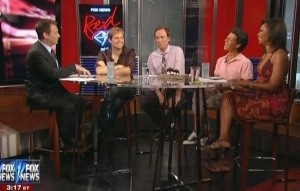 The guys at Red Eye had some fun last night reacting to Mitt Romney receiving an official endorsement from porn star Jenna Jameson, including her comment that "when you're rich, you want a Republican in office." The panel talked about whether or not Jameson's endorsement was actually serious, and Andy Levy couldn't help but wonder exactly how the CBS reporter who interviewed Jameson for the story ended up in a strip club in the first place.
RELATED: 'Queen Of Porn' Jenna Jameson Endorses Romney: 'When You're Rich, You Want A Republican In Office'
Andy Levy noted that Jameson was a Hillary Clinton supporter in 2008, and deadpanned, "She goes both ways." Harris Faulkner wondered exactly how many porn stars and porn fans are out there who would be swayed by the endorsement. Tom Shillue figured this was only a news story because people find it ironic that a porn star is supporting the candidate of "the party of morality."
Faulkner also noted that Romney has said in the past that he is anti-pornography, which is why Levy suspected that Jameson was being sarcastic. Michael Ian Black said that the big tent of the Republican party can hold both Romney and a porn star. Bill Schulz again brought up Jameson's former support for Clinton and remarked, "The independent voter is alive and well in America."
And as for the CBS reporter who just happened to be at a gentlemen's club celebrating its "anniversary," Levy found it odd, but Black saw it as a great way of promoting small businesses.
Watch the video below, courtesy of Fox News:
Have a tip we should know? tips@mediaite.com
Josh Feldman - Senior Editor