Red Eye Team Takes A Victory Lap After Predicting 'Huge Amounts Of Porn' At Bin Laden Compound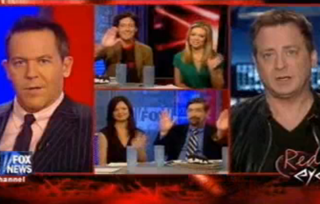 Upon the capture and death of Osama bin Laden, the good folks at Red Eye made one concrete prediction about the ramifications of the raid: whatever happens, there were "clearly huge amounts of porn" in the bin Laden compound. Not ones to waste a victory, Greg Gutfeld and crew celebrated by guessing movie titles, hiding their laptops and debating the merits of amateur versus professional porn.
Gutfeld began the show with an old clip from May 3rd of a conversation between him and Andy Levy, where they stated with certainty that bin Laden owned "huge amounts of porn" and played some "exclusive footage" (of goats). With that, it was time to go around the table, where regular Lauren Sivan expressed relief that her and bin Laden "were really not that different after all," debut guest Dee Dee Benkie read off a list of titles including "Boys in Burkas III" and "Spring Break on Oha Island," and Democratic strategist Pat Caddell weighed on on the relative merits of amateur and professional porn in far more detail than anyone really needed to hear (thankfully). "This is a man after my own heart," he said of bin Laden for keep five wives and an impressive amount of porn.
Once the halftime segment rolled around (after a fiery debate over Gwyneth Paltrow's love life), Levy weighed in on the odds that the porn was "amateur stuff with either a static camera– boring– or a shaky camera– annoying." Caddell, on his part, noted that, even if so, there was a certain allure to amateur porn to him that made up for the sub-par cinematography. If they keep this up, they're not going to have anything left for when the government reveals the titles in bin Laden's collection.
The discussion and Halftime Report via Fox News below:

Have a tip we should know? tips@mediaite.com