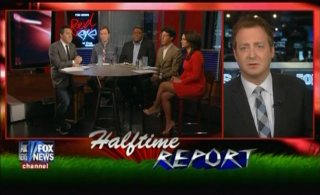 Much has been made of President Obama's "coolness" since slow-jamming the news with Jimmy Fallon. To recap: several Fox News personalities were especially offended by the performance, calling it "nutso" and "awful." Dana Perino made the case that Obama's cool isn't cool. Jimmy Kimmel claimed that Obama is hard to make fun of because he is a "cool character." Everyone seems to have an opinion on whether the president is cool.
But the most accurate take goes to Andy Levy. On last night's edition of Red Eye, Levy set the record straight about exactly why President Obama is NOT President Cool:
President Cool doesn't raid marijuana dispensaries. President Cool is not against gay marriage.
Exactly. Any president can be "cool" if he's attractive, has good charisma, and touts happy things like fairness, hope, and change. But true coolness doesn't involve harshing the buzz of medical marijuana patients in California, Colorado, Montana, and Washington with more federal raids than the previously (and serially uncool) President George W. Bush. President Cool doesn't laugh off and mock a serious question about ending the War on Drugs.
Coolness does not mean towing the thoroughly establishment line about how gay people cannot marry because, as the president says, heterosexual marriage is a sacred union.
But wait, there's more. Levy continues on with a great play on words:
I like how he slow jams closing Gitmo.
Yep. President Cool doesn't promise to close Guantánamo Bay and then take forever to do so.
President Cool doesn't continue (and sometimes extend) the thoroughly uncool Bush-era foreign policies like indefinite detention, the PATRIOT Act, unauthorized drone bombings, rendition, and other civil liberties abuses.
He can get all the Fallon appearances, celebrity endorsements, and press brown-nosing his PR team wants, but President Obama is thoroughly uncool.
Check out the full segment below, via Fox News:
Have a tip we should know? tips@mediaite.com