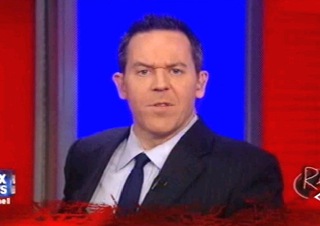 Lawrence O'Donnell has really taken a liking to starting feuds in his new hour, and ever since he started calling out Bill O'Reilly for being a "faux Irish tough guy" and Glenn Beck for apologizing about something O'Donnell wanted an apology for. If you've been wondering who on Fox News was going to take the bait, your wait is over: Greg Gutfeld has taken up the good fight, defending all Fox News employees– including the security guy and the cleaning ladies– from O'Donnell's wrath.
On Thursday night's/Friday morning's Red Eye, Gutfeld addressed the many attacks O'Donnell has launched at his network lately, including the aforementioned. "The key to boosting Keith Olbermann's rating was to attack anyone on Fox News," he explained, and noted that O'Donnell was doing just that, except far more indiscriminately. Gutfeld recounts the many attacks on his colleagues, including the newsdesk's Patti Anne Browne for "putting up kitty posters in her office," "the security guy who didn't recognize him" for not "having an American experience," and the cleaning ladies for theft: "we have no idea how to get the money back," says O'Donnell, clearly out of context. Gutfeld also stands up for the head of the Girl Scouts of America, who O'Donnell actually did attack didn't attack, though I'll admit to being duped into thinking the lady in that clip actually was a Girl Scouts representative.
His panel agreed that O'Donnell may be taking it overboard, but also blamed Gutfeld for directly "increasing Larry O'Donnell's ratings by talking about this." There was also little sympathy for the Girl Scouts, while Bill Schulz actually took O'Donnell's side on the matter, sort of. "If it works, let's try it!" he noted of the tactic of attacking the other programs airing in your time slot. To that end, he continued, "Screw you, infomercials! Especially you, Shake Weight lady!" Shots fired!
No word on whether O'Donnell or the Shake Weight Lady will respond in what is now inevitably a multi-platform war. Thursday/Friday's Greg-a-logue (and a follow-up via Andy Levy's Halftime Report) via Fox News below:

Have a tip we should know? tips@mediaite.com