Red Eye's Panel And Greg Gutfeld Weigh In On Hilary Rosen/Ann Romney Controversy: 'Puke'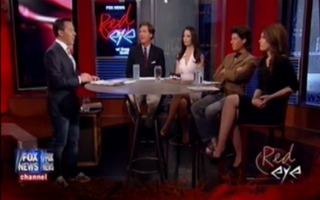 The panel on Fox News Channel's Red Eye weighed in on the controversy surrounding remarks Democratic strategist Hilary Rosen on CNN Wednesday in which she said Ann Romney, wife of Republican presidential candidate Mitt Romney, had "never worked a day in her life."

RELATED: Fox's Red Eye Crew Goes After Olbermann's Twitter Attack On S.E. Cupp
After recapping the controversy, Rosen's walking back her comments as well as the rebuttals by Ann Romney herself and a disavowal of Rosen's comments by Obama 2012 campaign manager Jim Messina on Twitter.
Host Greg Gutfeld finally read Rosen's last apology on Twitter when she welcomed Ann Romney to Twitter and said that she would "find it an exhilarating and often unforgiving place."
"Puke," Gutfeld opined.
Gutfeld asked panelist and Daily Caller editor Tucker Carlson "how much should the Romney campaign pay Rosen for what she said. This is the best thing to happen to them in like seven months."
"It's distressing to see this play out over Twitter, because it just validates the existence of Twitter," said Carlson. "This really is late Rome when our public policy debates take place in 24 characters, or whatever the hell they give you."
"At the core, this is powerful because a lot of people understand intuitively that many of the left believe it is morally superior to hire some non-English speaker to raise your kids while you pursue some yuppie dream than it is to raise your kids yourself," Carlson continued.
Gutfeld turned to co-host of The Five, Kimberly Guilfoyle and asked, "I love that Rosen calls it a phony war, but how did the war start?"
"You ought to know, Hil, you started it," replied Guilfoyle. "What kind of strategist is she and who would hire her because she doesn't have it together."
Attorney Remi Spencer weighed in on the controversy saying that she thinks there may be some resentment in Rosen's comments levied at women who she believes are fortunate enough to be able to stay home with their kids. "There might be a little resentment about the woman who married well enough to stay home and not have to get a job," said Spencer. "But a lot of people learned about Ann Romney this week that really didn't know anything about her."
"I think us in the media are starting to forget what the war really is," said Fox News contributor Bill Schultz. "It involves lots of people. It involves bloodshed. As a veteran of the war on Christmas, I don't take this stuff lightly."
Gutfeld closed the segment by playing a clip of White House press secretary Jay Carney telling the press corps that he was unsure of the precise number of visits Rosen made to the White House during the Obama administration because he knew, "personally, three Hilary Rosens."
"This is genius to me," said Gutfeld. "Anytime anybody asks you a question about anything, it's not that you don't know anything, you actually do know that but you know two more of them. What do you think about the budget? Well, I know three budgets."
Guilfoyle replied that Carney's response was "spineless" while Carlson said that it was perfectly acceptable for Carney to be asked about this subject because President Obama weighed into the Trayvon Martin murder case, " a crime he knew nothing about."
Watch the segment below via Fox News Channel:
Have a tip we should know? tips@mediaite.com