Reddit Troll Michael 'Violentacrez' Brutsch Talks Fame, Porn, And His 'Jailbait' Award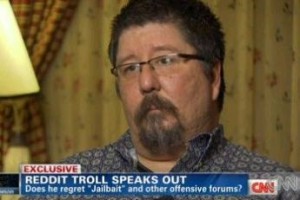 CNN's Drew Griffin recently sat down with Reddit moderator "Violentacrez," who recently had his identity revealed in a Gawker post after having gained (anonymous) internet notoriety for moderating forums devoted to such topics as "Jailbait" (for which he'd won an award from Reddit), images of dead girls, incest, rape jokes, racist jokes, and anti-Semitic rants, among others.
Griffin asked Violentacrez — whose real name is Michael Brutsch — about the Jailbait forum, telling him that, as a father himself, he'd have been angry to see his daughter's pictures posted there. The comment prompted Brutsch to issue an apology while also laying blame on Reddit:
All I can say is I'm sorry. And I have made mistakes. I understand that, you know, Reddit enabled and encouraged this sort of behavior and I shouldn't have been a part of it.
Brutsch went on to explain that he'd begun by posting softcore porn images, which he'd organized in different forums according to descriptors like "Women of Color" or "Boobies." He admits that he eventually came to thoroughly enjoy trolling people through these forums, which grew increasingly controversial in their subject matter, thus prompting more outrage.
He added that his audience was mainly comprised of "college kids," and that they were appreciative of what he describes as the platform for "gallows humor" that he provided for them. He also showed off the gold-plated bobble head he received for having created the "Jailbait" forum. Reddit has since expressed regret for having handed it out, chalking it up to a community vote.
Have a look, via CNN:
Have a tip we should know? tips@mediaite.com