Red Eye Panel On Dr. Keith Ablow's Defense Of Gingrich's Cheating: 'Pandering Slop'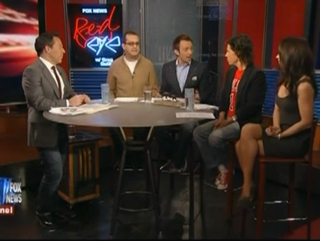 Fox News' medical correspondent Dr. Keith Ablow was last seen condemning respect for transgendered people, and this week came out with a piece that was vintage Ablow: Newt Gingrich, he argued, would make a great present precisely because he had been a philandering weasel. Needless to say, this logic did not go over so well on Red Eye, where the panel intermittently called it "asinine" and tried to determine if it was just masterful trolling on the doctor's part.
RELATED: Jon Stewart Dissects Gingrich Open Marriage Scandal: Open Your Legs, America
Ablow, who has been a guest on the show, suggested that the fact that "three women have met Mr. Gingrich and been so moved by his emotional energy and intellect that they decided they wanted to spend the rest of their lives with him" was an indication that Gingrich was awesome (Ablow tellingly did not comment on the moral quality of the second two women, who were mistresses before they were wives). Panelist Matthew McCall was the only one who attempted a defense of some sort of this thesis. "What he is trying to say… he was in a marriage, wasn't happy, found something better," which showed a "stern ability to make a decision," he argued. "You left out that convenient overlapping of the relationships, Greg Gutfeld noted. He then turned to Joe DeRosa, and asked what he imagined having Ablow as a psychiatrist would be like, besides him telling you that everything you do wrong is good, because "it's proof that you're capable of getting away with it."
DeRosa summed it up as "asinine" and "insane," and Remy Spencer jumped in to add that "there's absolutely nothing to this point," as "woman are attracted to men who are in positions of power– they don't even have to be good-looking or that wealthy." DeRosa later returned to call the whole thing "right-wing desperation" and insist, "I don't think this guy believes this." Bill Schulz, the final one to weigh in, called the whole thing "pandering slop" that made sense in the context of Gingrich's original excuse for his horrible moral history: that he had cheated on his wives because he loved America.
The segment via Fox News below:

Have a tip we should know? tips@mediaite.com