Referendum Or Local Politics? Dems Lose Congressional Seat In Special Election
Referendum Or Local Politics? Dems Lose NY Congressional Seat In Special Election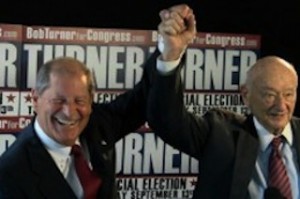 The aftershocks of the Weinergate scandal appear to have left yet another victim: the Democratic Party. Last night's special election for NY's 9th district saw Republican Bob Turner take the congressional seat suddenly vacated this summer by Anthony Weiner's resignation. It's clearly an upset in the traditionally Democratic district, and already the news media have called it a "referendum on Obama." But does that tell the whole story?
Republicans have scored an upset victory in a House race that became a referendum on President Barack Obama's economic policies.

Retired media executive and political novice Bob Turner defeated Democratic state Assemblyman David Weprin in a special election Tuesday to succeed Rep. Anthony Weiner, a seven-term Democrat who resigned in June after a sexting scandal.

With about 70 percent of precincts reporting late Tuesday, Turner had 53 percent of the vote to Weprin's 47 percent.

The heavily Democratic district, which spans parts of Queens and Brooklyn, had never sent a Republican to the House. But frustration with the continued weak national economy gave Republicans the edge.
The AP continues to report what many already felt, that this election should have been an easy win for the Democrats. But all politics are local, and the 9th District of New York (which includes parts of Queens and Brooklyn) has a very unique demographic makeup. Like much of New York city, there is wide diversity, however, this particular district is home to many orthodox and conservative Jews, many of whom supported Anthony Weiner's very strong pro-Israel stance of the last ten years, but were disappointed to see an undisciplined sex scandal become his undoing. Several local political experts have also suggested that Weiner's marriage to Huma Abedin, a practicing Muslim-American, as another fateful blow.
How does this relate to the Democratic candidate David Weprin? As the AP Reports, Weprin, an Orthodox Jew himself, reportedly advanced some policies that did not play particularly well with a more religiously conservative base:
Weprin became embroiled in New York-centric disputes over Israel and gay marriage, which cost him some support among Jewish voters.

Orthodox Jews, who tend to be conservative on social issues, expressed anger over Weprin's vote in the Assembly to legalize gay marriage. In July, New York became one of six states to recognize same-sex nuptials.
There is no question that the loss of this congressional seat is a big blow to the Democratic party, and it could very well portend more bad political news for the DNC for the coming political season. It is too early, however, to simply proclaim this as pure referendum on the Obama administration. His approval ratings are down, but not nearly as low as Congress. As is the case in most political news narratives, the answer will be found in the coming election, and history, as they say, is written by the winners.
Watch CNN's report:
Have a tip we should know? tips@mediaite.com