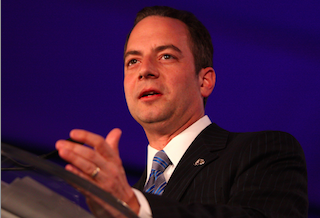 "I think we're in for a tsunami-type election in 2014," Republican National Committee chairman Reince Priebus told the audience at Tuesday morning's Christian Science Monitor breakfast in Washington, D.C. Looking ahead to this fall's midterm elections, Priebus boldly predicted big gains for the GOP, especially in the Senate.
"My belief is, it's going to be a very big win, especially at the U.S. Senate level, and we may add some seats in congressional races," Priebus predicted. "But I need to and we need to at the RNC make sure that we can capture the positives and the benefits we've been able to provide in 2014 and build on that to have success in 2016, which is a very different type of election."
RELATED: Progressive Pundits Trying to Scare Democrats into Holding the Senate
The chairman went on to "guess" that the biggest demographic gains for Republicans would come from young people and women as a direct result of President Barack Obama's Affordable Care Act. "It's very, very, very personal among women losing your doctor, getting your insurance canceled," he said. "Then young people, Obamacare is intentionally designed to screw young people over. Actuaries sat down, decided, let's just screw over everyone 35 and younger. That's what they did."
Priebus' comments echo a similarly bullish prediction Rush Limbaugh made last month on his radio show. The host predicted a 2014 "wave election that would make 2010 look small," when Republicans successfully picked up control of the House.
[photo via Wikimedia Commons]
— —
>> Follow Matt Wilstein (@TheMattWilstein) on Twitter
Have a tip we should know? tips@mediaite.com