Reince Priebus Warns RNC: 'We Must All Be Very Conscious of Tone and Choice of Words'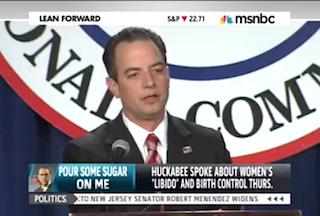 At today's Republican National Committee meeting, chairman Reince Priebus had a suggestion for his fellow conservatives: "Be very conscious of tone and choice of words." Could he have been talking directly to former Governor Mike Huckabee, who has become the latest Republican to draw criticism for comments about women's reproductive rights?

Priebus' comments came just one day after Huckabee said the following at the same conference:
"If the Democrats want to insult the women of America by making them believe that they are helpless without Uncle Sugar coming in and providing for them prescription each month for birth control because they cannot control their libido or their reproductive system without the help of the government, then so be it."
Despite the backlash it received from the media, the White House and others, Huckabee stuck by his comments Friday, saying there was "nothing scandalous" about them.
RELATED: Rick Santorum Can't Quite Defend Huckabee's 'Libido' Comments
At today's event, Priebus addressed the RNC crowd, saying, "I've said many times before, that the policies and principles of this party are sound. However, as we look to grow the ranks of our party, we must all be very conscious of tone and choice of words when we communicate those policies effectively."
"Was he directing that towards a specific individual there you think?" MSNBC's Richard Lui asked after playing the clip.
Well, there was no specific reference in that Priebus speech," reporter Kasie Hunt replied. "It was part of an overall address that focused on where the party should go forward, though it's pretty clear what the undertone was."
Watch video below, via MSNBC:
[photo via screengrab]
— —
>> Follow Matt Wilstein (@TheMattWilstein) on Twitter
Have a tip we should know? tips@mediaite.com