On Opening Night, MSNBC's O'Donnell Beats Olbermann Despite Relentless Hype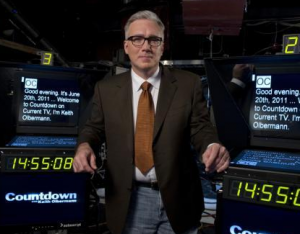 Keith Olbermann rallied the troops on Twitter, gave a flurry of high profile interviews, and his new bosses at Current TV backed him with their best efforts at promoting their new franchise. The reality check came Tuesday, from Nielsen. According to ratings data released by Current, the Monday night debut of Countdown with Keith Olbermann had 179,000 viewers in the advertiser-coveted–and critical–demographic of viewers 25-54. The network declined to say what the show's total viewing audience was. "It's one night. We'll need a couple of weeks to know where we're starting," Olbermann said in a statement released by the network.
While the network said it was also very pleased with the ratings, Olbermann's move from MSNBC to Current has cost him in viewership. His old timeslot at MSNBC, now occupied by Lawrence O'Donnell, attracted 237,000 viewers in the demo–and that was only good enough for a third place finish behind Fox News and HLN's Nancy Grace. Olbermann did beat CNN, In the Arena, but that show's host, Eliot Spitzer has been off this week, and CNN's ratings overall have been lower as interest in the Casey Anthony murder trial seems to have sent viewers to HLN for its wall-to-wall coverage.
Will viewers find Olbermann and bring the ratings up? As the host said, it takes time for new shows (even ones that look pretty much identical to old shows) to find their groove. But as a rule, opening night ratings tend to be higher than the nights that follow, as curious drop-in viewers who want to have a look on the first night don't come back. More than two million viewers tuned in to watch CNN's Piers Morgan open his new show with guest Oprah Winfrey. On Monday, with guest Ryan O'Neal, the total viewership was a far smaller 689,000.
The difference between Morgan and Olbermann, however, is the network that surrounds each show. CNN has strong viewership throughout the day and night to remind viewers about Piers Morgan Tonight and promote the show. Current, with its significantly smaller average audience, is pitching Countdown to a comparatively tiny group of viewers, forcing Current to spend money on advertising the show, or, as they did last night, sending Olbermann off in search of free media with an appearance on CBS' Late Show with David Letterman.
Have a tip we should know? tips@mediaite.com