CNN's Howard Kurtz Calls Media Blackout Of Ron Paul 'Self-Fulfilling Prophecy'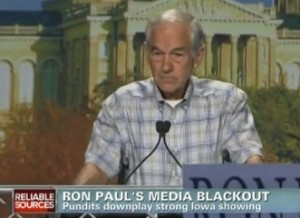 On CNN's Reliable Sources Sunday morning, host Howard Kurtz asked his panel to respond to the criticism, best summed up by Jon Stewart, that the media is unfairly ignoring the presidential candidacy of Rep. Ron Paul (R-TX). While the panel offered a familiar raft of excuses, Kurtz pushed back against the notion that Paul can't be elected, saying, "That can be a self-fulfilling prophecy if you decide, in advance, that he's not going to win the nomination."
Roll Call's Christina Bellantoni revealed the "dirty secret" that Paul's ascent as a media figure was aided by the fact that his intensely loyal following was large enough to guarantee huge traffic for anyone who wrote about him in 2008. "One of the reasons he has a national presence," she said,  "is because the media built him up in 2008 because we all got web traffic off of it, any time we put Ron Paul in a headline."
Bellantoni also pointed out that Paul's age is also a factor, but Paul is about the same age as 2008 nominee Sen. John McCain (R-AZ).
The Daily Caller's Matt Lewis talked about how Paul's well-organized following has him doing well in straw polls and fundraising, but that his previous presidential runs haven't amounted to much.
Kurtz interrupted, saying, "That can be a self-fulfilling prophecy if you decide, in advance, that he's not going to win the nomination."
Kurtz also called out Fox News, among others, by questioning the fairness of asking Paul about an ad from one of his supporters seeking sex scandal dirt on Gov. Rick Perry. He pointed out that this was not only unfair to Paul, but a way to advance smears against Perry, asking, "Should those kind of unsubstantiated charges in an ad be raised on national TV?"
Bellantoni, who hadn't seen the Fox News clip, agreed that it was "pretty ridiculous."
The Ron Paul phenomenon is an odd one, especially where the media is concerned. Paul's position outside the political mainstream can explain why he doesn't win elections, but his successes, coupled with his undeniable ability to deliver media eyeballs, make the media's Voldemort treatment of him all the more mystifying.
Here's the clip, from CNN's Reliable Sources:
Have a tip we should know? tips@mediaite.com