Reliable Sources Morphing into CNN Version of Olbermann's Non-Stop Fox Bashing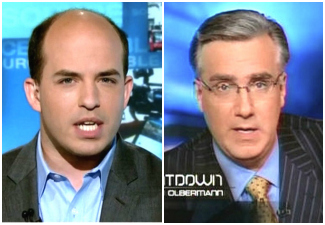 One thing Americans love to do — particularly those who work in cable news — more than anything is vent. This exercise particularly pertains to those who have "former" in his or her title. And having attended more than a few happy hours sharing war stories with those in the business who lose any semblance of a filter after getting overserved, it can be said here without ambiguity that trashing former employers is the new unofficial national cable pastime.
The problem with these kind of venting sessions is that they're private. Here's how it works: A person has an issue with an old boss or employer, breaks out the snark, recounts one too many examples of why that employer or boss is horrible, begins to depress/annoy the table, but eventually gets everything off his or her chest. The process for the griper is like eating Chinese food — tastes great at the time, but leaves you hungry again not long after.
But now, fortunately for those who have worked for Fox — or are currently employed by Fox, or like to write books about Fox — there's now a very public place to get everything off one's chest, and 100,000 or so in the 25-to-54 demo can hear all about it: CNN's Reliable Sources. CNN, of course, is a competitor of Fox in a mostly-lopsided cable news race, and therefore has the motive to make the network running ahead of it look bad or stupid. Reliable has been on the air since 1992, and is currently hosted by longtime Fox critic and former New York Times media reporter Brian Stelter.
In looking at transcripts of the program on a week-to-week basis since the beginning of this year, Reliable has featured segments critical of Fox News in eight of the 10 shows it has aired. Context: Compare that to the ten shows leading up to Stelter's tenure as full-time host which were moderated, post-Kurtz departure, by various guest hosts from Frank Sesno to John Avlon to Eric Deggans to David Folkenflik: During that stretch, Fox was only discussed twice in any real capacity.
Now that's not to say food fights between the cable news networks haven't been occurring for a while now: Former MSNBC host Keith Olbermann was the primary offender, targeting Fox and obviously Bill O'Reilly on a near-nightly basis. Fox has also done its share of segments analyzing and mocking its competitors, albeit not as often in an effort to avoid punching down (from a ratings perspective) too often. MSNBC and, particularly, Rachel Maddow lately have frequently targeted Fox. But as stated in this space in the past, this is mostly a fruitless exercise that may be good for the ego of those tossing the food, but isn't terribly interesting to those outside the media bubble. And unless the mockery is executed the right way by professionals (Jon Stewart, John Oliver), it invariably falls flat while looking petty and obvious in the process.
In the case of Reliable Sources, today's episode featured Mickey Kaus, a former columnist for The Daily Caller who quit the publication after being told by its founder (Fox & Friends Weekend host Tucker Carlson) that Fox criticism wasn't allowed.
In the past, Kaus would have to gripe about Carlson or Fox's influence to friends at Moe's Tavern. Today, his happy hour was brunch with Stelter at 11:00 a.m. The message: Conservative pundits and writers are scared of Fox and won't criticize the network. This perspective came about two minutes after a clip was played of Bernie Goldberg — the author of the best-selling Bias and a Fox News contributor — openly criticizing Fox on The O'Reilly Factor.
Two weeks prior, during a show I was invited to appear on but couldn't make due to travel (Disclosure: I've done Reliable seven times since 2013 with four different hosts and briefly auditioned in July 2013), Eric Burns, the former host of Fox News Watch, was given an open platform to slam Fox and its audience for being "cultish." It should be noted that Mr. Burns collected paychecks from Fox for a decade before being fired in 2008, yet never shared that perspective while there.
And a few weeks prior to that, Gabriel Sherman — who was given an unprecedented 30 minutes by Stelter last year to promote a book few purchased about Fox CEO Roger Ailes — was back on to discuss Ailes again and Republican candidates running to New York to kiss the ring.
There are other examples from the past ten weeks, but you get the point: Reliable Sources is now a program that is essentially a mix of Olbermann's old Worst Persons segment and The Daily Show in terms of consistent focus on Fox News. Almost every Sunday morning, the viewer can count on the host sitting down with someone who has a gripe with the network for an in-depth discussion.
But is the strategy paying off?
Well, since the 29-year-old Stelter took over in late 2013, the program has beaten Fox's Media Buzz with Howard Kurtz twice in approximately 65 tries ("approximately" because Reliable has been partially or totally pre-empted for breaking news a few times). And before you say Fox always beats CNN, think again: CNN often beats Fox on Sundays as a whole, yet Reliable's numbers continue to show no signs of improvement.
Per TVbytheNumbers.com recently:
On Sunday, March 15 CNN's Reliable Sources with host Brian Stelter hit a 2015 low in the key cable news adults 25-54 demographic, averaging 106,000 viewers at 11AM. behind Weekend Express on its sister network HLN which averaged 133,000 adults 25-54 viewers. FNC's MediaBuzz won the timeslot with 199,000 adults 25-54 viewers and 986,000 total viewers. MediaBuzz outperformed Reliable Sources by 88 percent among adults 25-54 and 90 percent in viewers.
Fox is a huge media player that stirs controversy, emotions, and plenty of opinion good and bad, no doubt. Discussing it occasionally when warranted on a media program is absolutely the right call. The network has its share of editorial hits and misses. But when it becomes a regular occurrence that screams repetition, audiences will turn away.
Stelter is a modern American success story. He went from a guy who started a respected media blog from scratch as a teenager to the New York Times right out of college to hosting his own media program on CNN — all before the age of 29.
But if he wants this run to continue, it might be time to start to rethink what Reliable Sources is: A program that breaks down big media stories and issues of the day? Or one that engages in inter-network food fights every Sunday morning few outside the bubble care about?
— —
>> Follow Joe Concha on Twitter @JoeConchaTV
Have a tip we should know? [email protected]