Reliable Sources Panel Analyzes The Difference Between Tea Party And Occupy Wall Street Media Coverage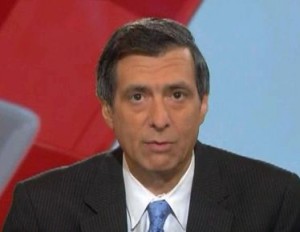 One of the biggest criticisms of the media's Occupy Wall Street coverage is that it has been generally less dismissive of Tea Party protests in the past and hasn't been nearly as kind to the Wall Street protestors. Earlier today, Howard Kurtz and the Reliable Sources panel debated whether the Occupy Wall Street protests warranted the kind of coverage they had been getting in the past week or not.
Washington Post writer Erik Wemple argued they did not, because "a protest needs to prove itself" and just because a group of people protests does not automatically mean they deserve coverage. He credited OWS's social media strategy as a highly effective one, but he believed the media was doing its job in reporting on the protests fairly, especially when some of the protestors do something newsworthy.
Blogger Sharon Waxman did not know why the protests sprung suddenly overnight, years after the recession began, but she did give the group credit for being a true grassroots organization taking on an important political cause. She compared Occupy Wall Street to uprisings across the Middle East in the Arab Spring earlier this year.
RELATED: Jon Stewart: How Are The Occupy Wall Street Protestors Not Like The Tea Party?
Kurtz highlighted the mostly dismissive coverage Fox News has been giving to the protests, including Bill O'Reilly's assertions that they're all "loons" and "anarchists." Wemple agreed that there was some "low-hanging fruit" in the group that would make it easy for people like O'Reilly to simply dismiss the entire movement, but argued that such a tactic was "disgraceful" because no one individual can represent an entire group.
Waxman thought Fox's dismissiveness was odd, particularly when they could easily co-opt the protests (as some argue they did with the Tea Party) to show the failures of President Obama. She doesn't see the protests as a "left-wing issue" but as an issue that conservatives "could easily… embrace them as their own." Kurtz noted the coverage seemed to be of a bizarro Tea Party nature, because it was only a year or two ago where Fox News was promoting a grassroots political movement and liberal media organizations were accused of picking out "loons" in the crowd while not painting a fairer picture of the movement.
Watch the video below, courtesy of CNN:
Have a tip we should know? tips@mediaite.com
Josh Feldman - Senior Editor