Reliable Sources Panel Tears Into Chelsea Clinton NBC Hire: Insensitive In This Economy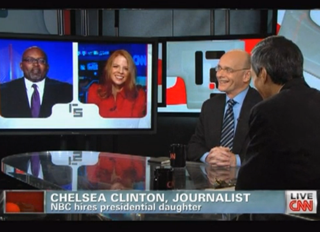 Earlier in the week, NBC announced it would hire Chelsea Clinton as a correspondent for its "Making a Difference" series, a decision that clearly did not go over well for some. On CNN's Reliable Sources today, Howard Kurtz's panel tore into the "Nepotism Broadcasting Company" for depriving someone without connections of such a job, with one panelist particularly noting it was offensive to "young people who played by the rules."
RELATED: NBC News Hires Chelsea Clinton To Boost 'Making A Difference' Series
Panelist Eric Deggans told Kurtz he found the hire rather surprising given the failure of developing Tiki Barber as a host, suggesting not that Clinton should not be in the media, but that she should start out at a relatively lower level comparatively, and not out on top. That sentiment seemed agreed upon by everyone on the program, with Hollywood Reporter's Marisa Guthrie adding that this was not the first time such a hire occurred at NBC– "they have Meghan McCain." She considered it not a partisan issue, but an "insider" one– they want someone who is an insider with without the baggage of an insider, which she considered very cynical, particularly since "this is a network that suspended a reporter for saying the Clintons were pimping out their daughter to their campaign" (that reporter, incidentally– David Shuster— was on Reliable Sources later on).
RELATED: Hillary Clinton 'A Little Surprised' About Chelsea's New NBC News Gig
But it was David Zurawik that had the harshest criticism for NBC. "At a time when young people who played by the rules," he argued, "are camping out in cities because the system has failed… to take another member of that elite, the 1%, and give them one of those jobs, is really a dispiriting message to the people of this country." He went on to say he "can't think of a more cynical message" and that it was very "insensitive" on NBC's part.
The segment via CNN below:

Have a tip we should know? tips@mediaite.com