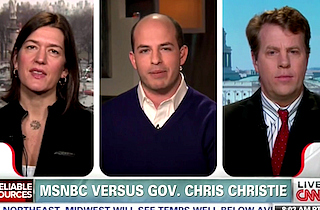 Reliable Sources host Brian Stelter asked New York Times' Kate Zernike and Washington Post media critic Erik Wemple on Sunday morning if there was any merit to the claim by the Chris Christie administration that MSNBC was "gleefully" covering Christie's political troubles. The panel agreed that while the left-leaning network had gorged on the Christie story this week, Steve Kornacki's reporting stood apart as a significant contribution to the Bridgegate scandal.
"Steve Kornacki has been pretty fair," Zernicke said, contrasting him to MSNBC figures like Lawrence O'Donnell and Rachel Maddow. On his show Saturday morning, Kornacki broke Hoboken Mayor Dawn Zimmer's allegation that the Christie admin had tied Sandy relief funds to a development project.
"His story was fairly well reported," Zernike continued. "He talked about the Christie administration's reaction, he pressed Dawn Zimmer pretty forcefully on why didn't you come forward if this was really what you were talking about?"
"What Kornacki did was reporting," Wemple said. "He added a significant dimension to this story. While certainly there was a lot of blather on the MSNBC airwaves this week—everybody talked about Christie, not necessarily advancing the story in terms of reporting much—Kornacki was sitting there documenting this new revelation about Dawn Zimmer. I think that's a fairly significant addition, and even the New York Times and just about everybody else has had to follow those revelations."
Wemple added that Fox "tends to just hammer away," without making as much of an impact with reporting. "I think this is actually a significant and good moment for MSNBC," Wemple concluded.
Watch the clip below, via CNN:
[Image via screengrab]
——
>> Follow Evan McMurry (@evanmcmurry) on Twitter
Have a tip we should know? tips@mediaite.com