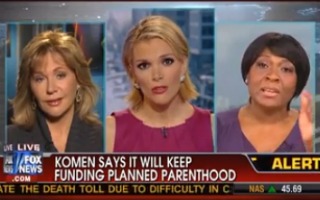 You might recall that, just yesterday, Fox News' Megyn Kelly hosting a very heated panel discussion between guests Sandy Rios and Jehmu Greene about Susan G. Komen's controversial decision to cut funding to Planned Parenthood. Now that the foundation has reversed its decision, Kelly invited the two back for more.
RELATED: Megyn Kelly Panel Battles Over Whether Planned Parenthood's Commitment To Cancer Is A 'Hoax'
Rios took issue with the fact that several senators wrote to the Susan G. Komen foundation voiding their disappointed that it had "bowed to political pressure" in its initial decision to cut funds to Planned Parenthood. (The thinking behind that being, in a nutshell, that bringing on Karen Handel as its senior VP had a politically-motivated impact on the foundation's decision to halt funding. Handel had recently made a gubernatorial run on a pro-life platform and has been vocal about her issues with Planned Parenthood's abortion services.) Yet what we're seeing now, said Rios, is an "absolute shakedown" of a charity for political reasons.
"This is quintessential feminine confusion," she continued. "This is the part of my gender I'm ashamed of. The emotional, the vitriolic, the foolishness of it was displayed in the criticisms of Susan G. Komen.
"We should all be on the same side, fighting against cancer," added Greene, decrying the "politicizing" of women's health issues.
Rios shook her head repeatedly as Greene described Planned Parenthood as providing critical cancer screening to especially vulnerable communities, like Latinas and/or black women. "That's who they kill the most," replied Rios, "is Latinos and blacks."
As the discussion turned to an argument, Kelly tried to break in. "Ok, it's better if we have a back-and-forth and not try to talk over each other," she said. "Come on. Come on. Let's not talk over each other. It really irritates the viewers. And it irritates me."
Watch what happened, via Fox News:
Have a tip we should know? tips@mediaite.com