'Rent Is Too Damn High' Guy Makes Shocking Revelation On O'Reilly: 'I'm A Former Stripper'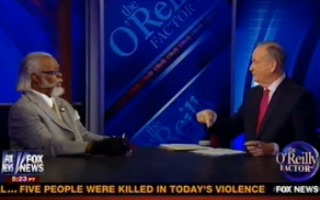 Jimmy McMillan, onetime New York gubernatorial candidate on the platform that the "Rent Is Too Damn High," made an appearance on The O'Reilly Factor Tuesday night and had a shocking revelation to share: "I'm a former stripper."
McMillan and host Bill O'Reilly were discussing the recent news that many welfare recipients have been withdrawing funds from strip clubs. "Why would you go in a strip club when there are ATMs everywhere?" O'Reilly asked.
McMillan responded that the fees were lower at certain ATM machines, which could be an inducement for people to seek them out. O'Reilly was incredulous: "Do you think, really, seriously, do you think somebody is going to walk into a strip club because just because they want to get their welfare benefits and walk out?"
"Well, I'm a former stripper," McMillan revealed, shocking the primetime host.
O'Reilly had to pick his jaw up off the floor one more time: "Here in the United States or some other country?"
Here, McMillan responded, then got to his point, which was apparently that "100 percent of strippers are welfare recipients." O'Reilly had to confirm the statement, to which McMillan explained: "They need that money because they have someone baby-sitting their children so when they get off from work they may have to get money from that machine."
McMillan and O'Reilly eventually agreed that the welfare system needs to be "reformed," but that wasn't the end of the discussion. As the segment wrapped up, O'Reilly noted to McMillan, "I was a little taken aback by the revelation that you were a stripper at one time." Was it "below 1950?" he asked.
McMillan didn't answer the timing question but explained: "I'm exposed to Agent Orange and I have a deformed daughter. The government told me 'we can't help you with your children.' My daughter had spina bifida and I needed money to get my daughter's spina bifida surgery."
"You gotta write a book, Jim," O'Reilly proclaimed.
Watch the full clip below, via Fox News:

—
>>
Follow Anjali Sareen (@AnjaliSareen) On Twitter
Have a tip we should know? tips@mediaite.com