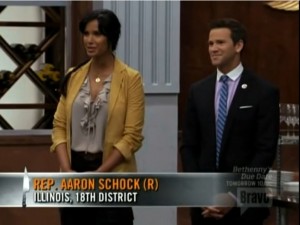 In an interesting move for someone who has previously tried to affirm his heterosexuality (yet a fairly expected one for someone who is now being called a gay icon), Illinois Representative Aaron Schock, with his camera-ready smile and infamous physique, showed up on the Bravo channel last night.
No, he wasn't tossing back cocktails with Andy Cohen during a Watch What Happens Live after show, unfortunately. He was tasting some finger foods and offering valuable ethics lessons as a guest judge on Top Chef.
Presenting the non-elimination Quickfire Challenge, Schock and host Padma Lakshmi fumbled through a hard-to-follow explanation of the role that food plays in the relationship between members of congress and the lobbyists who try to court them. The challenge came together, however, when Lakshmi revealed that the chefs would have to create dishes that could be served on toothpicks to sway Schock in their favor. Still confused?
The challenge recalls recent legislation that makes it more difficult for lobbyists to bribe politicians. In an apparent loophole, supplying congressmen with fancy hors d'oeuvres is still allowed as long as the treats can be enjoyed while standing. And thus the point of the challenge: "devising a delicious hors d'oeuvre that packs the punch of a full dish" and can be skewered on a tooth pick, putting the chefs in the role of lobbyists and Schock in the position of the hungry and possibly impressionable politician.
Watch Schock and Padma deliver the fun, educational, and tasty congressional ethics lesson below:
Have a tip we should know? tips@mediaite.com