Rep. Allen West: President Asking Congress To Pass Jobs Bill 'Absolutely Offensive'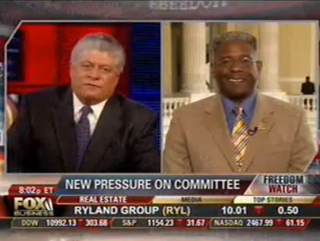 Not shockingly, Tea Party favorite Rep. Allen West was not too thrilled with President Obama's job creating proposal he put forth to Congress last Thursday. Speaking last night to Judge Andrew Napolitano, Rep. West noted that he agreed with some of the President's ideas, but that the way he encouraged support was "absolutely offensive" to him.
The part that Rep. West agreed with was miniscule enough to compare the bill to a band-aid on a bullet wound, such that it would not to all that much to fix the "economic morass in which he really has had a huge hand in creating. While the Congressman lauded the President for "borrowing ideas that we have put forth," like cutting corporate tax rates and closing loopholes. That said, he refused to say whether the bill would be dead on arrival in the House, as no one has seen it in writing.
That, along with the speech itself, seemed to highly incense Rep. West, who told Judge Napolitano:
Something that was absolutely offensive to me is that we're sitting there waiting to hear this speech, and finally, at 7 PM, we get a blast on our Blackberries where we have this speech, and at 7:30 the President starts speaking and tells us to pass this bill right now.
The offensive material seemed to be to Rep. West the idea that Congress would want to pass a bill which they have not had put before them, and only a half hour to read the speech intending to sell them the bill.
The Freedom Watch segment via Fox Business below:

Have a tip we should know? tips@mediaite.com