Rep. Anthony Weiner: 'Tea Party Nihilists' Want A Government Shutdown And I Think They'll Get It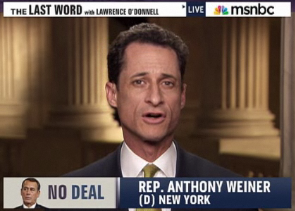 Democratic Congressman Anthony Weiner appeared on Lawrence O'Donnell's show last night alongside Republican Congressman Phil Roe. O'Donnell and Weiner lamented the fact that the Tea Party had basically took control of the budget negotiations, while Roe calmly responded that finally serious efforts were being taken to get the federal fiscal house in order.
O'Donnell introduced the segment warning that "Congress has never failed to raise the debt ceiling whenever necessary because the economic consequences . . . would be devastating. We now have six weeks to discover if this is the first Congress in history that doesn't understand that." From there, Weiner argued that Speaker John Boehner was having conversations with himself, but not negotiating with Democrats on the budget. Weiner concluded:
"The straw that's stirring this drink are the Tea Party nihilists who just want the government to shutdown. And one of the things about being Speaker is you've got to lead. I don't see Speaker Boehner doing that, so I think we're going to have a government shutdown and my Republican friends are going to get what they want."
Roe responded by telling Weiner that everyone knows he wants to be the next Mayor of New York and that Weiner will have to one day balance a budgt too. Except for Weiner's description of the "Tea Party nuts," a respectful tone was maintained throughout the lengthy conversation. Yet if a government shutdown does take place, it will be interesting to see if the rhetoric against the Tea Party is ratcheted up even further.
Watch the clip from MSNBC below:

Have a tip we should know? tips@mediaite.com