Rep. Bachmann: All 2012 Candidates 'Should Put Their Birth Certificate On The Table'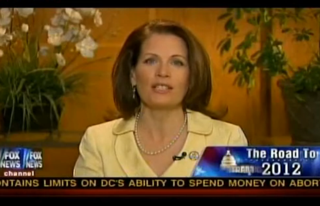 The delicate dance between people who believe President Obama has illegitimately obtained his position as leader of the free world and Republicans who aspire to take that position away from him continues. Rep. Michele Bachmann visited Sean Hannity today to wink at supporters that she is considering a presidential run, and in an overt slap on the wrist to birther enthusiasts suggested all candidates should show their birth certificates publicly, too.
"I take the President at his word," Rep. Bachmann told Hannity in response to him soliciting her thoughts on the matter and, particularly, the Donald Trump media circus now drumming up the issue once more. She concluded her comments, additionally, by noting that "we have a lot of bigger fish to fry than this." But somewhere in between, it sure sounded like Rep. Bachmann would sleep sounder at night if she could just see that birth certificate:
As far as I'm concerned, I think, if I decide to throw the hat in the ring, anybody could look at my birth certificate, I could care less. This is the easiest problem to solve. The president just has to give proof and verification, and there it goes. Either it's real or it's not. Everybody should put their birth certificates on the table and not worry about it. It doesn't have to be a toxic issue. Put your birth certificate in, end of story.
Get used to this sort of doublespeak– "I don't care about the President's birth certificate, but if anyone asked me, I could easily produce mine"– because it's the logical evolution of the birth certificate debate after blatant admissions of not believing that the President is American proved to be overwhelmingly unpopular. With Donald Trump forcing the national debate into a birther nosedive, Republicans are now forced to both address the issue and "see both sides" of it, which takes more than a bit of cognitive dissonance.
The segment via Fox News below:

Have a tip we should know? tips@mediaite.com