Rep. Bachmann And Campaign Manager Insist To Eric Bolling Ron Paul Bribed Staff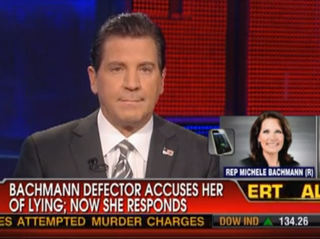 The story of how Rep. Michele Bachmann's top man in Iowa somehow ended up defecting to the Rep. Ron Paul camp several hours after attending a Bachmann campaign rally is still a work in process, slowly evolving out of a he-said, she-said that now includes rebuttal from the candidate herself. Rep. Bachmann and campaign manager Susan Geddes spoke to Eric Bolling today on Your World and once again insisted that she had personally heard from Sorenson that he was paid to defect, the same claim Geddes subsequently made to Bolling.
RELATED: Rep. Bachmann Iowa Campaign Co-Chair Endorses Ron Paul At Rally
"I was told by Kent Sorenson actually– it was the day before yesterday he had called me, there were rumors that he was going to defect because the Ron Paul campaign was really in trouble after the Sioux City debate that Fox had hosted," Rep. Bachmann told Bolling, adding that Sorenson had actually said "I'm not going to do it; it'd be the wrong thing." This, she narrated, was two days ago. She also noted that the Rep. Paul press release was "clearly not spontaneous," insisting again that she knew about the plan through Sorenson.
"Do you think he was a Ron Paul mole throughout this whole thing?" Bolling asked. She said she did not think so, but she knew that the Paul campaign was "dishearted" when he joined her and added that the Iowa youth vote was on the line. Bolling then played a clip of Rep. Paul denying the claims to Fox News' ambush specialist Griff Jenkins where he denied paying Sorenson. "All I can tell you is what Kent told me, what he told his campaign manager, what he told various people in the campaign," Bachmann responded.
RELATED: Megyn Kelly Grills Defecting Bachmann Chair Over Ron Paul Bribery Claim
Geddes, following Bachmann's talk to Bolling, corroborated the Congresswoman's story, adding that she had received calls from his constituents worried that "their senator doesn't appear to have any integrity." She added that it was one thing to defect, but "to deny the real reason for doing it, which is money," was what bothered her the most. She also answered that she did not know whether the Bachmann campaign was the only one being poached by Paul staffers.
The interviews via Fox News below:

Have a tip we should know? tips@mediaite.com