Rep. Barney Frank And Rep. Marsha Blackburn In Yelling Match Over Female Unemployment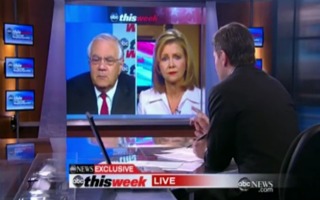 Rep. Barney Frank (D-MA) and Rep. Marsha Blackburn (R-TN) engaged in heated crosstalk and debate when the conversation moved from gay marriage to President Obama's economic record and the state of unemployment among women on ABC's This Week with George Stephanopoulos on Sunday.

RELATED: Barney Frank And Tony Perkins Engage In Epic Battle Over Homosexuality on Hardball
Frank asserted that marriage had always been a state-level issue, until President George W. Bush and the Republican-dominated Congress in 2004 pushed for a Constitutional amendment to define marriage nationally.
Stephanopoulos challenged that assertion, saying that the 1967 Loving v. Virginia case in the Supreme Court prohibited bans on interracial marriage. Frank agreed with Stephanopoulos, but made the distinction between that Supreme Court decision and the Republican's attempt to make marriage a legislative issue in the last decade.
He digressed at this point and pivoted to Rep. Blackburn's assessment that the recovery private sector jobs had been lagging. "This is a good political science lesson for people about what a political party's talking points are," said Frank. "My colleague Mrs. Blackburn has been instructed, talk about the economics first. And while I would prefer to answer your questions, I do have to note that this Republican talking point of women have lost jobs – the job losses came about because of the terrible recession that non-regulation brought about under George Bush. We have been gaining jobs since then, and it's true by the way that jobs for women have lagged…"
Frank was interrupted at this point by Blackburn who insisted that she correct his assertion, and crosstalk ensued while both appealed to Stephanopoulos for time.
"George, will you tell me what the rules are, please," asked Frank. Stephanopoulos allowed Frank to continue. "She's the one who introduced economics for their political talking-point position," Frank continued.
Blackburn countered, "unemployment among women was 7 percent when this president took office, and it's 8.1 percent today. And you have seen women in the last year lose jobs, and that is something you can go look at the Bureau of Labor Stats – it is there." Blackburn continued to criticize President Obama and Congressional Democrats on the country's increasing debt and deficits.
Stephanopoulos attempted to move on to another topic, but was halted by Frank who wanted to respond again to Blackburn's assertions. "In the first place, on the debt – these are the people who want to increase military spending unendingly," said Frank. "Yes we are spending too much money. We are spending too much internationally…"
When Blackburn again interrupted him at this point, Frank appeared to have had about all he could take of the Tennessee Congresswoman. "Mrs. Blackburn, I don't know what the strategy is – don't let him talk – bring up new subjects when George asks a question. But I would hope we have a civil debate here. The fact is the debt is being driven by the Bush administration's decision to go to war twice, five big tax cuts for the wealthiest."
Watch the exchange below via ABC News:
Have a tip we should know? tips@mediaite.com