Rep. Blackburn to Fox: Shutdown May Teach People To 'Live With Less Government'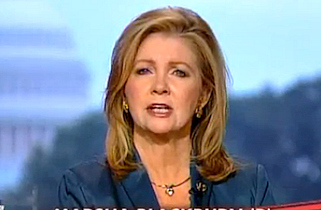 Representative Marsha Blackburn (R-TN) appeared on Fox & Friends Tuesday morning and argued that the government shutdown could convince people that they could make do with less government, though co-host Brian Kilmeade reminded her that a shutdown would also furlough hundreds of thousands of workers.
Co-host Steve Doocy had asked Blackburn how long she thought the shutdown might last.
"I think you may see a partial shutdown for several days," Blackburn said. "But people are probably going to realize they can live with a lot less government than what they thought they needed."
"It's like the sequester all over again!" Doocy said.
"Unless you're one of the thousands who have been told to stay home, who live paycheck to paycheck to paycheck," said co-host Brian Kilmeade.
Kilmeade asked if Blackburn still supported the strategy to tie the defunding of ObamaCare to the continuing resolution, as it shifted focus from the rollout of the Affordable Care Act to the GOP's role in the government shutdown.
"We will see how ObamaCare opens this morning," Blackburn said. "We tried last night to be certain that the president and his staff have the opportunity to be included in these exchanges. I think people have found it very interesting that those that enforce ObamaCare, those that wrote Obamacare, are not a part of ObamaCare. This president and the first lady should have wanted to be the first two to sign up for ObamaCare. We tried to give them the opportunity, and of course the Senate didn't want to do that."
Watch the full clip below, via Fox News:
[Image via screengrab]
——
>> Follow Evan McMurry (@evanmcmurry) on Twitter
Have a tip we should know? tips@mediaite.com