Rep. Cleaver: Romney Must've Had 'Horrible Advice' To Criticize Obama At NAACP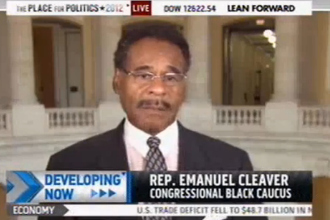 Following Mitt Romney's NAACP speech Wednesday afternoon, Congressional Black Caucus chairman Rep. Emanuel Cleaver (D-MO) took to MSNBC Live to give Romney mixed reviews for his remarks but criticizing the Republican nominee's decision to openly criticize President Barack Obama in front of an all-black audience.
The speech focused on the main pillars of Romney's policy proposals: job creation through reduced government spending and regulation, emphasis on school choice for education reform, and a commitment to upholding traditional values. "I would give Governor Romney an 'A' for attending the NAACP convention and speaking," Rep. Cleaver said, but, "I would give him a 'C' for some of the positions he took, but an 'F' on the politics."
"I don't know if he has any African-Americans advising him at the top of his campaign staff, but it would have been horrible advice — if someone gave it to him — to go into the NAACP convention in Houston, Texas, and then criticize President Obama," Rep. Cleaver said. "It was obvious that they have differences, or they wouldn't have been running against each other. So you leave that out and you speak."
Rep. Cleaver told host Richard Lui that the end of the speech was "very powerful," but that Romney "missed out on an opportunity to talk about many of the things that matter in a way that the [black] audience could accept." For example, the congressman said, Romney could have spun the issue of charter schools in a way that doesn't sound like he wants to shut down public schools in favor of them.
Lui then played the now-infamous clip of Romney getting booed by the crowd after he stated he plans to eliminate ObamaCare, adding that "they will be the victims if the Affordable Care Act is not implemented. Many of them will be African-American."
"Here again," Rep. Cleaver responded, "I don't know who is advising Governor Romney from the African-American perspective, but I would give him an "F-" on talking about ObamaCare, in terms of repealing it… not to this audience. […] Now I didn't support the booing. I think that was inappropriate, but predictable when you start saying I'm going to eliminate something that the African-American community has embraced in numbers."
If he was going to criticize the president's health-care policy, Rep. Cleaver said, then "he should never have gone there in the first place. I think that his advisers are not serving him well in that kind of a context."
"Net-net, did Governor Romney walk away with more African-American voters supporting him than when he entered and when he started that speech?" Lui asked.
"I think he walked away with some African-American appreciation at a higher level," the congressman said, but added that "In terms of the content, nothing changed. The African-Americans who support him will continue to support him. […] But he didn't change anything. He had an opportunity, I think, to push the needle over just a little if he had not gone into somewhat of a criticism of Obama in a crowd like that."
Watch the interview below, via MSNBC:
>> Follow Andrew Kirell (@AndrewKirell) on Twitter
Have a tip we should know? [email protected]