Rep. Cummings Defends Baltimore Protests: Police Relations 'Civil Rights Cause' of Generation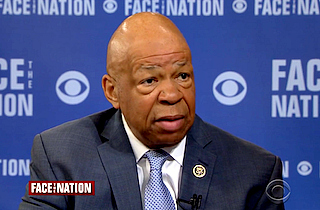 On Face the Nation Sunday morning Representative Elijah Cummings (D-MD) defended the protests in Baltimore last night over the police death of Freddie Gray, which occurred not only within his district but practically outside of his door, but which also devolved into instances of looting by the end. Cummings also said that he was pleased with the investigation thus far but welcomed the involvement of federal authorities.
"I've gotta give it to the citizens of Baltimore," Cummings said, praising Baltimore community leaders for being present to maintain order. "It was very peaceful, all day…And then at the end there were a few who said 'we're gonna tear this city down,' and the next thing you know we had a few people mainly from out of town…But for the most part it could have been worse."
"But this whole police-community relations situation is the civil rights cause of this generation," Cummings said.
RELATED: Baltimore Police Compares Freddie Gray Protesters to 'Lynch Mob'
Gray was stopped by police two weekends ago. At some point during his transport in a police van his spine was "virtually severed"; he died from the injuries one week later. It is still unknown how the injury was incurred, and how long police officers waited until seeking medical attention. All officers involved in the incident have been suspended.
Cummings said that the mayor and police chief were doing "the best that they can in the circumstances," but that the Department of Justice needed to conduct a thorough review of the Baltimore PD. "We've got to take this department apart and try to figure out what is wrong and what is right."
Watch the clip below, via CBS News:
[Image via screengrab]
——
>> Follow Evan McMurry (@evanmcmurry) on Twitter
Have a tip we should know? tips@mediaite.com