Rep. Darrell Issa Defends Obamacare Subpoenas to Wolf Blitzer: 'I've Lost Patience'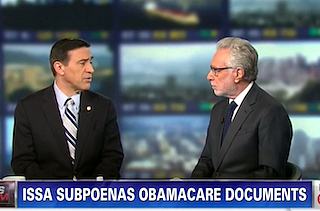 House Oversight Committee Chairman Darrell Issa (R-CA) talked to CNN's Wolf Blitzer about the subpoenas his committee has issued regarding the Affordable Care Act's malfunctioning website, arguing that subpoenas were necessary to obtain information as to the site's structural and security flaws, especially as the relevant agencies and contractors have been less than forthcoming with the requested information.
"Both Senator Lamar Alexander (R-TN) and I have asked for documents, we set a reasonable deadline, it expired," Issa said. "Now we really need to insist on those documents."
Issa is requesting documents on everything from briefings that the website was not ready to be launched to worries that tax and voter information entered on the site could be vulnerable.
"They say they're cooperating," Blitzer responded, and then read aloud from a Health and Human Services memo pledging speedy delivery of the documents.
Issa said that ten of the eleven subpoenaed contractors had complied, except for QSSI, the primary company responsible for the site.
"They wouldn't give us timelines," Issa said. "They say they're able to take a failed site that they had three-and-a-half years to produce and get it fixed by November 30th, basically thirty days. In our case, Senator Lamar Alexander is a patient man, and he's a very moderate senator. He has lost his patience. I've lost my patience. We're saying, start giving us at least the critical—and we prioritize—the critical discovery to let us understand, particularly related to documents we already have, that showed they were shown these failures."
"The challenge here, quite frankly, though, is: the tip of the iceberg is the website," Issa concluded. "But safety, security, reliability of the information, at a time when people are being ordered on penalty of tax to do things—we need to make it sure happens."
Watch the whole clip, via CNN:
[Image via screengrab]
——
>> Follow Evan McMurry (@evanmcmurry) on Twitter
Have a tip we should know? tips@mediaite.com