Rep. Darrell Issa: 'It's Hard To Believe' AG Eric Holder Didn't Know About 'Operation Fast And Furious'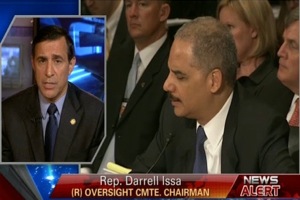 Republican Congressman and Chairman of the House Oversight and Government Reform Committee Darrell Issa spoke with Lou Dobbs about "Operation Fast and Furious" and how he is determined to learn exactly who knew what and when about the illegal gun trafficking program. Despite President Obama declaring that Attorney General Eric Holder was not aware of the program, Issa believes some evidence might suggest otherwise.
Under the program run by the United States Bureau of Alcohol, Tobacco, Firearms and Explosives (ATF), guns were sold to Mexican purchasers in order to try and build cases against Mexican drug kingpins. However, after one of the guns was used to kill US Border Patrol Agent Brian Terry, Issa has led an investigation of the program and determined that over 1,000 guns might still remain in the hands of Mexican drug gangs. Issa told Dobbs, "this was a bad program with a lot of unknown factors and a lot of mistakes that we can never let happen again."
Regarding Holder's involvement in the operation, Issa cited a speech the Attorney General made two years ago where he discussed a "bold initiative" to target kingpins:
"If he was so engaged that he would fly to Mexico, do this speech, talking around 'Fast and Furious,' it's hard for us to believe that all throughout that year-plus process and even as this program fell apart and became a problem for [the Department of] Justice, that nobody should have told him something."
As of now Issa is willing to take Holder at his word that he didn't know what ATF was up to, however, even if that's the case, Issa is still interested in learning why the Attorney General was kept out of the loop on such a big operation.
Finally, as further proof that Issa plans on being a constant headache for the Obama administration, he also suggested that next he's focusing on potentially illegal campaign fundraising conducted by some individuals in the White House. It seems safe to say that as soon as the debt crisis is over and leaves the headlines, Issa and his investigations might be receiving much greater attention.
Watch the clip from Fox Business below:
Have a tip we should know? tips@mediaite.com