Rep. Dennis Kucinich Defends "Statesmanlike" Speaker Boehner Post-Tucson On MSNBC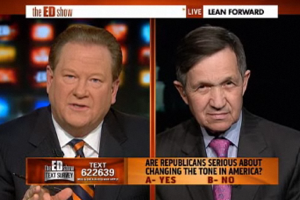 It's very early in his tenure, but House Speaker John Boehner is already garnering high praise from the far reaches of the other side of the aisle. Colleague Democrat Rep. Dennis Kucinich may not agree with his policies, but he lauded the "really good tone" Speaker Boehner was setting in Congress on MSNBC, openly disagreeing with host Ed Schultz.
Schultz introduced his interview with the liberal congressman by criticizing the Republican leadership for having a "post-Tucson mentality" and attempting to bury the issues that the left cares about under the weight of last week's tragedy. But when he asked Rep. Kucinich to evaluate the new Speaker's mode of operation in relating with all the members of Congress, Kucinich sheepishly but steadfastly gave Boehner good words. He told Schultz:
"I love you and I think you're one of the most passionate defenders of the people in the media. But, you know, John Boehner, I think, has set a really good tone. He really rose to the occasion in a way that I suppose surprised people. but I've known john a long time and I think that he has been really statesmanlike in the way that he has responded to the tragedy in Arizona."
Schultz immediately shot back that Boehner had not publicly called on Republican members of Congress to tone down their rhetoric, which he found as evidence against Kucinich's claim that Boehner was following the President's call to change tone. Kucinich agreed that he would like to see more from the Speaker, but noted that "he is trying to understand that the atmosphere is changing" and appreciated the sincere effort. That didn't go over too well, either, but the two agreed to disagree and give Boehner more time to prove his change in tone.
Yesterday's segment via MSNBC below:

Have a tip we should know? [email protected]