Rep. Eric Cantor Repeatedly Tells Morning Joe Crew 'Now Is Not The Time To Raise Taxes'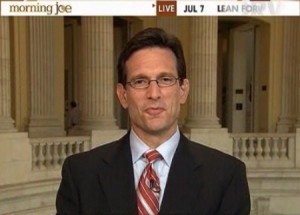 Republican Congressman Eric Cantor appeared on Morning Joe to defend his party's position of basically not being in support of any tax increases whatsoever. Mika Brzezinski noted that President Obama is now putting Social Security and Medicare on the table and wondered about Cantor's position, "is that coming to the table as much as the White House appears to be?"
Cantor said he is in favor of tax reform and is happy to close loopholes, so long as they are offset with tax cuts elsewhere. He insisted the only way to increase revenues is from a growing economy, and not from government reaching into more pockets. Mika however wasn't convinced and asked whether Cantor sees a narrative building here in that Republicans are so concerned with the rich. She asked "is there a moral question in your mind about equity here?" Cantor responded:
"This alleged narrative that may or may not be developing, is missing something. And what it's missing is, that people in this country who are on tough times right now, the best thing for them and what they want is a job."
And in case there was any doubt that Speaker of the House John Boehner may be open to some minor tax increases, Cantor repeated "we are united as Republicans in saying now is not the time to raise taxes. I've talked with the Speaker and he is not for raising taxes." Well at least no one could accuse Cantor of hiding his economic argument.
Watch the clip from MSNBC below:

Have a tip we should know? tips@mediaite.com