Rep. Gohmert Fires Back at Sen. McCaskill: 'My Heart Breaks for Someone With Her Ignorance'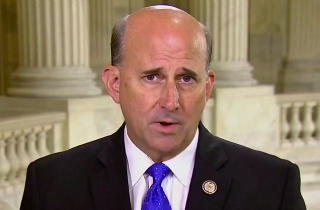 After Senator Claire McCaskill (D-MO) accused lawmakers who appeared at the World War II Memorial yesterday of "playing politics on the backs of veterans," Representative Louie Gohmert (R-TX) fired back, impugning McCaskill's respect for patriotism and accusing her of politicizing the clash over the memorial.
"My heart breaks for somebody with the ignorance of Claire McCaskill," Gohmert said. "I've stood with families when there was no camera anywhere in sight, with just a handful of people. I have wept with so many military families who have lost loved ones and will continue to do that. She sees veterans and thinks politics. Some of us see veterans, and our heart breaks and rejoices for the sacrifice they were willing to make."
Gohmert was one of the several Republican legislators who accompanied the veterans on the second day they tried to access the memorial, which closed on Tuesday due to the government shutdown.
RELATED: GOP Rep. Confronts Park Service Ranger at WWII Memorial: You Ought to Be 'Ashamed'
"I didn't know whether it would be a camera there when we went," Gohmert said, "but Steve Palazzo (R-MS) said, 'We've got veterans coming from World War II, and they're not going to let them go down the sidewalk into their memorial.' Well, a bunch of us came running. I didn't know if a camera would be there, I didn't care."
"It is outrageous who's playing politics with this," Gohmert continued. "I will go anywhere, anytime a veteran needs me, and I can get there to help. I've done it my whole life. It's who I am. I'm just sorry Claire McCaskill doesn't have enough knowledge about the patriotism that lies in some of us that she should see veterans and want to help, rather than thinking politics."
Watch the full clip below, via Fox News:
[Image via screengrab]
——
>> Follow Evan McMurry (@evanmcmurry) on Twitter
Have a tip we should know? tips@mediaite.com