Rep. Issa Asked If He Is 'Showboating' With Fast And Furious On Face The Nation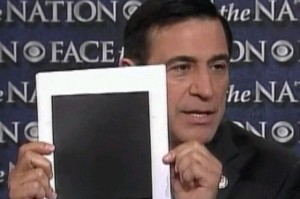 On Face the Nation today, Congressman Darrell Issa updated the public on his latest attempts to investigate the Justice Department for its possible involvement in the ATF "Fast & Furious" gun sting, but was careful not to accuse any of the involved parties of criminal conduct.
Bob Schieffer asked Issa to respond to charges that he's merely "showboating" by issuing subpoenas. Issa responded by holding up one of the many pages in the official report given to him by the Justice Department that was completely redacted, and insisting it was important to be "thorough" in investigating the case. Issa said he was requesting other documents and e-mails from the Justice Department, but they have not been as open to cooperating as one might expect. Issa's conclusion? "They know they made a horrible mistake."
RELATED: Darrell Issa On Investigation Into 'Fast And Furious': Cooperation With Justice Dept. Close To 'Zero Percent'
Schieffer pointed out Issa had issued subpoenas for documents he has already been issued, suggesting he believes the copies may have been tampered with. And Issa said as much, while being careful not to directly accuse anyone involved of any wrongdoing. As for the question of whether Attorney General Eric Holder should be forced to resign, Issa deferred to President Obama's judgment on that issue. For the time being, Issa stated that he still wants the Attorney General to return to testify to expand upon his earlier testimony to clarify whether he was misleading Congress in saying he had no knowledge of the ATF plan up until a few weeks ago.
Watch the video below, courtesy of CBS News:
Have a tip we should know? tips@mediaite.com
Josh Feldman - Senior Editor