Rep. Issa: Obama 'Not Trustworthy,' Invited Paul Ryan To White House 'By Trickery'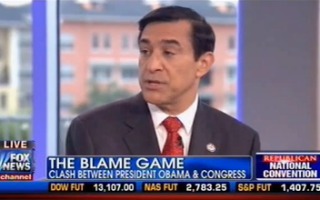 Rep. Darrell Issa stopped by Fox & Friends Tuesday, where he was asked about the President's ability to compromise and engage with those on both sides of the aisle.
"Let's forget that he is not trustworthy on this issue," said Issa. "Let's assume that he really means it. As soon as this election is over, he and his party will be looking at midterm elections and taking back the House, perhaps taking back the Senate. So I think the question about when you reach out to the other side, you reach out to the other side every day or you don't reach out. This President has been in the don't reach out side."
The President has done things, Issa later continued, "like invite Paul Ryan to the White House by trickery and embarrass himself by ridiculing Ryan's program in front of him."
"He ran on hope and change," he added. "He didn't run on trust. He's now running for reelection and clearly he can't run on trust."
Host Brian Kilmeade then asked Issa what evidence he has that Republicans would also be willing to compromise. Issa immediately pointed to Paul Ryan as a perfect example of this.
RELATED: Caught On Hot Mic: Obama Tells Russian President He Needs 'Space,' Will Have 'Flexibility After My Election'
Talk then turned to the President's "hot mic" moment, wherein he was heard telling Russian President Dmitry Medvedev that, if given "space," he'd have more flexibility on negotiations "after my election."
Issa felt that moment demonstrated that Obama is "willing to say whatever he needs to say to get reelected," while also making promises behind the scenes to people who are "not our friends."
Watch, via Fox News:
Have a tip we should know? tips@mediaite.com