Rep. Jackson Lee Suggests Race Is Behind Congressional Debt Crisis War With Obama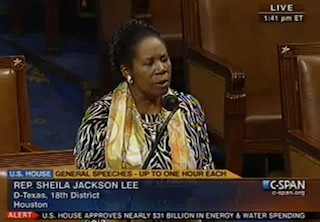 Earlier today, Rep. Sheila Jackson Lee (D-TX) took to the House floor and openly wondered why Congress is challenging President Obama over raising the debt ceiling, especially compared to the many administrations that came before him. "Why is he different?" Jackson Lee asked, before adding, "and in my community, that is the question that we raise. In the minority community that is question that is being raised. Why is this president being treated so disrespectfully?"
Jackson Lee continued, "why has the debt limit been raised 60 times? Why did the leader of the Senate continually talk about his job is to bring the president down to make sure he is unelected?"
Writing for The Hill, Josiah Ryan reports:
Earlier in her speech, Jackson Lee said Obama has been targeted unlike any other president.

"I am particularly sensitive to the fact that only this president — only this one, only this one — has received the kind of attacks and disagreement and inability to work, only this one," said Jackson Lee from the House floor.

"Read between the lines," she continued. "What is different about this president that should put him in a position that he should not receive the same kind of respectful treatment of when it is necessary to raise the debt limit in order to pay our bills, something required by both statute and the 14th amendment?"

Jackson Lee concluded by saying that she hoped someone would step up and say that what appears obvious to her is not in fact true.
Watch the speech below, courtesy of C-Span:
Have a tip we should know? tips@mediaite.com