Rep. Jeff Landry Tells Fox News: 'We're Going To Have This Exact Same Fight Again In Two Months'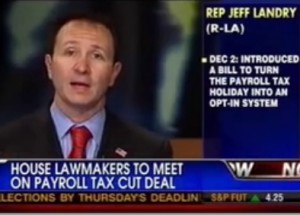 Louisiana Republican Congressman Jeff Landry, a member of the Tea Party caucus, was a guest Friday morning on America's Newsroom, and expressed his dismay with the payroll tax cut deal, calling it "bad policy and good politics," and foretelling another battle when the two-month deal is up.
"It's why we have scandals like Solyndra," an agitated Rep. Landry said, expanding on his bad policy/good politics line. He was then interrupted by guest host Gregg Jarrett, who asked him, if he was so passionate in his opposition, why he didn't stick around in Washington to see his stance through?
"I had to trust in the leadership, that we were going to take this fight all the way to the end," Landry replied. "It was our understanding that when we left town that we may be coming back for some votes hoping that we would have a deal reached between the Senate and the House which extended this payroll tax for one year."
Jarrett then referenced a statement by Landry, which ripped into the Senate and President for rushing deals "to go on vacation."
"But you're on vacation, aren't you? You're back in Louisiana, you left Washington?" Jarrett asked.
"No, if I was on vacation, i wouldn't be here on the camera," Landry replied. He said that he was back in Louisiana, but he has been talking to his constituents to see how they felt about the payroll tax cut.
"This was a bad deal," he added. "We're going to have this exact same fight again in two months. And it's ridiculous. We're injecting uncertainty into American families' budgets."
Enjoy the full clip of Landry's interview below, courtesy of Fox News:
Have a tip we should know? tips@mediaite.com