Rep. Jim Moran (D): Rep. Allen West 'Not Representative Of African-American Community'
Rep. Moran: Rep. West 'Not Representative Of African-American Community'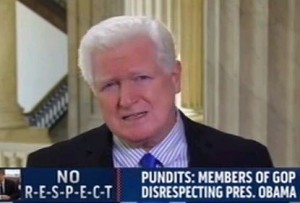 Rep. Jim Moran (D-VA) stopped by MSNBC yesterday, where he weighed in on Rep. Allen West's recent comments urging President Obama and other Democratic leaders to take their message "to the North Pole, but get the hell out of the United States of America."
Moran told host Martin Bashir that West and Arizona governor Jan Brewer reminded him of the hyenas from The Lion King.
"People like Mr. West," Moran told Bashir, "and Governor Brewer, and so on — particularly Mr. West — is not only not representative of the African-American community or of the Republican Party, let alone of the American public. So what he says really is of little or no consequence, but it's unfortunate."
RELATED: Rep. Allen West Tells Obama And Democratic Leaders To 'Get The Hell Out Of The United States'
He just seems clueless now that he has climbed aboard ship. He's climbed this latter of opportunity that was constructed by so many of his ancestors' sweat, sacrifice, blood. You know they did everything they could for his generation to be successful. But now that he's climbed on board ship, instead of reaching down and steadying the ladder, he wants to push it off. You know "I'm up here. If you're not with me, too bad." And President Obama, fortunately, is the kind of guy that says "I was very fortunate to get where I am and I'm going to spend my life trying to steady that ladder of opportunity.
President Obama is, he added, our Lion King.

Have a tip we should know? tips@mediaite.com