Rep. John Lewis Compares Death Of Trayvon Martin To 1955 Lynching Of Teen Emmett Till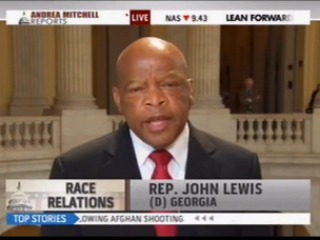 On her show Thursday afternoon, MSNBC's Andrea Mitchell spoke with George Rep. John Lewis about how the Trayvon Martin case is "revealing old wounds" when it comes to race relations in the U.S.
Mitchell told Lewis that the Martin case "does have a terrible resonance for you, who lived through the civil rights era." What historic lessons, she asked him, might we cull from this incident?
Lewis responded that the shooting death of 17-year-old Martin reminded him of the 1955 lynching of 14-year-old Emmett Till. "It's a very sad and dark hour," he added, "not just for race relations in the state of Florida, but race relations in America."
RELATED: The Killing Of Trayvon Martin Is Not A 'Black Problem'
Lewis also found it "frightening" that Martin's shooter, George Zimmerman, had not ben given a drug test and was permitted to keep his gun following the teen's death, even though Martin's body was given a posthumous drug test by medical examiners.
"I think that somehow and some way," he told Mitchell, federal officials "should be on the ground in Sanford, Florida during the necessary investigation" because local authorities failed in their duties.
Mitchell then asked Lewis to explain the burden young black men feel to act or move a certain way in the presence of law enforcement officers. He recounted that his mother used to tell him to always be careful and to "be particular, keep your hands out of your pockets and don't run, look straight ahead."
Watch, via MSNBC:
Have a tip we should know? tips@mediaite.com