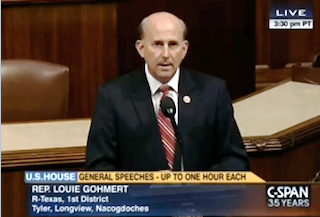 Sarah Palin''s infamous 2008 premonitions about Russia were officially entered into the congressional record this past week, thanks to Rep. Louie Gohmert (R-TX), who said he wanted to "set the record straight" once and for all on exactly what she said.
The problem, in Gohmert's estimation, is that the Tina Fey delivered on Saturday Night Live as Palin — "I can see Russia from my house" — has overshadowed Palin's actual quote to ABC News' Charles Gibson concerning Russia's proximity to Alaska. As Gohmert long-windedly explained from the House floor, what Palin actually said was, "You can actually see Russia from land here in Alaska."
To make his point, Gohmert read aloud lengthy excerpts from both the ABC News interview and the SNL sketch. "We know that Saturday Night Live has altered sketches that in the past, at least once, I recall seeing, where they were afraid it might make President Obama look bad and they certainly didn't want to do that," Gohmert said. "It's OK to take shots at Republicans, but they certainly didn't want to be fair and hit back at President Obama in the same way." For the record, he did say that he thinks Lorne Michaels is a "comic genius."
From there, Gohmert proceeded to do the least funny reenactment of an SNL sketch ever, playing both Tina Fet as Sarah Palin and Amy Poehler as Hillary Clinton. The least he could have done was invite his friend Rep. Michele Bachmann (R-MN) up to act it out with him.
"There's many in the United States that actually believe Sarah Palin said, 'and I can see Russia from my house,'" Gohmert explained. "It was a very clever sketch, it was funny. I laughed when I saw it. But I also knew how intelligent and what a great leader and Governor Sarah Palin had been and what a great leader she is."
There you have it, America.
Watch video below, via C-SPAN:
And here's the classic SNL sketch for your viewing pleasure, via NBC:
[h/t Raw Story]
[photo via screengrab]
— —
>> Follow Matt Wilstein (@TheMattWilstein) on Twitter
Have a tip we should know? tips@mediaite.com