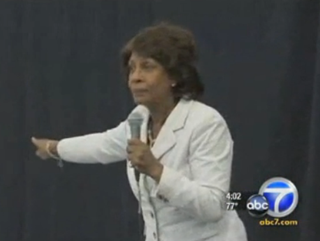 Democratic Rep. Maxine Waters is touring the country with the Congressional Black Caucus this month, and it is becoming increasingly apparent she has taken upon herself the mantle of representing the Congressional hard-left, making a splash this week by quipping that she and her constituents were "getting tired" of the President compromising, and following up in the weekend by simply telling the Tea Party to "go straight to hell!"
The comment came at a Town Hall in Inglewood, California, where Congresspeople took questions from many constituents whose primary concern seemed to be getting back to work. For this, Rep. Waters argued that the government needed to invest money in getting people back to work, and added dramatically that "I'm not afraid of anyone!" She encouraged the crowd to do the same.
"You can't be intimidated! You can't be frightened!" she told them, wrapping up, as an aside, "as long as I'm concerned, the Tea Party can go straight to hell!" While the report omits the full context of the comments, as the Town Hall was on the jobs issue, it appears Rep. Waters was expressing frustration with the Tea Party's insistence on cutting the national debt by keeping taxes low and cutting most spending, including spending designed to help the unemployed.
Rep. Waters will be out on tour for the rest of the month with the Congressional Black Caucus, and one can expect her to pop out on several cable news networks in the near future (as she has with Chris Matthews and Don Lemon this week). If she keeps up this tenor, and keeps the fires of political feuding alive between her and Tea Party leaders like Rep. Allen West, the least we can expect is some great TV, if not so much a spirit of compromise in Congress come September.
The report from California's ABC 7 below:

Have a tip we should know? tips@mediaite.com