Rep. Maxine Waters To Chris Matthews: Rep. Allen West Sent Unemployed Brother To Me For Help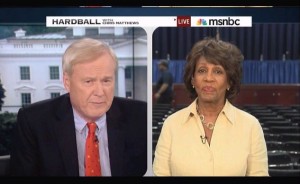 Rep. Maxine Waters came off a contentious public event with members of the Congressional Black Caucus to jump into a feud with Rep. Allen West, who responded to the caucus last night by comparing himself to Harriet Tubman and accusing Rep. Waters and others of running a "plantation." On today's Hardball, Rep. Waters begrudgingly responded, adding that the Congressman had sent his out-of-work brother to her town hall today to ask for help with jobs.
Chris Matthews began his interview far from the Rep. West issue, however, asking Rep. Waters "what bill you want the President to send up to the Hill so that you guys can fight for it on jobs." Rep. Waters noted that the Congressional Black Caucus had "produced about 40 pieces of legislation" and that she would have appreciated "the infrastructure bank where we would repair the roads and the streets and water systems" and in the process create government jobs. She also argued that the tax code should make it difficult for companies to move jobs overseas and that the stimulus package was too small. Rep. Waters added that she saw in constituents that they "don't like that this Tea Party has gained so much influence and appears to be so strong."
Matthews then turned to the plantation comments by Rep. West, which Rep. Waters smiled at, but dismissed as "odd" and wasn't really worth referencing, but added with some confusion that "that doesn't even make sense." Matthews posited that he "isn't talking to the black community" and that most of his constituency was white. Rep. Waters seemed to ignore most of this, and instead turned to a personal anecdote: "his brother was here today!" Matthews, confused, asked her to elaborate, and she continued: "he has a brother who is out of work– I asked if he had asked his brother, he said 'he told me to come to the job fair… to see you." Rep. Waters said she would do what she could to help him.
"So he sent him to the plantation?" Matthews added with a chuckle, which was bait Rep. Waters didn't seem to eager to take. "That's a reasonable conclusion," she responded.
The segment via MSNBC below:
Have a tip we should know? [email protected]