Rep. Michele Bachmann Completely Baffles John Brennan With Bizarre Questions During CIA Hearing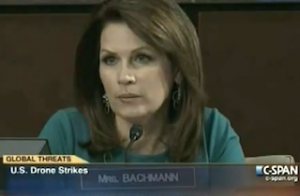 Representatives from the CIA, including newly-installed Director John Brennan, didn't quite know what to make of Rep. Michele Bachmann (R-MN) this week when they sat down to answer questions from the House Intelligence Committee. Each topic she raised seemed to draw blank stares and more questions from the intelligence officials, who could not believe the congresswoman was broaching various classified subject in the open forum.
First off, Bachmann brought up one of her favorite topics, the attack on the U.S. consulate in Benghazi in September 2012. She wanted to know about the White House's "armed drone strikes" in eastern Libya prior to those attacks last year.
"Armed drone strikes in Libya?" Brennan asked in seeming disbelief. "I am unknowing of such and would defer to the White House to address your question." When she pushed him on the issue, Brennan asserted that "the White House doesn't have a drone capability, responsibility" and said "I don't know what it is specifically you're referring to."
When she failed to get the answers she was looking for, Bachmann said, "well if we aren't going to talk about that, we aren't going to talk about that, but that's a question I'd like to know." She moved on, asking Brennan "what is our red line regarding the Iranian nuclear development program?"
"That clearly is a policy question," Brennan responded, explaining to Bachmann why he's not the right person to answer that question. From there, Bachmann went off on a tangent about the various times the United States and U.S. interests have been attacked over the last few decades, expressing her concern that an Iranian nuclear attack could also come as a surprise.
But the most bizarre moment came at the end of Bachmann's time when she asked about Iran's "heavy water reactor." The CIA men conferred amongst themselves for several seconds before politely informing Bachmann that it would be better to have that discussion in a "closed session."
It's not entirely clear whether Bachmann thought she would be able to extract classified information live on C-SPAN from Brennan and his CIA colleagues, or if she was just using her platform on the committee to air some of things on the international stage that have been bugging her. Either way, it was likely one of the strangest interactions between Congress and the CIA ever caught on camera.
Watch video below, via C-SPAN:
—
>> Follow Matt Wilstein (@TheMattWilstein) on Twitter
Have a tip we should know? tips@mediaite.com