Rep. Michele Bachmann In Iowa: 'I'm In, You're In, We Will Take This Country Back In 2012'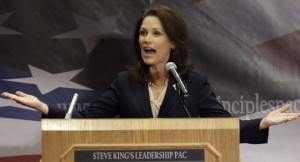 Yesterday Republican Congresswoman Michele Bachmann appeared at Iowa Congressman Steve King's conservative conference alongside other potential Republican candidates for President in 2012. Bachmann not only fired up the crowd, but also gave strong indications that she could be a very serious contender in the Republican primary process.
Bachmann received her loudest applause lines when she mocked President Obama and any actions taken by "big government." One of her favorite targets was Obama's healthcare reform plan, saying:
"Anthony Weiner said he wanted a waiver from ObamaCare. Now this is rich, because our colleague Anthony Weiner said that he wrote the bill for ObamaCare. In fact, his quote was 'the bill and I are one.' Now, if Anthony Weiner wants a waiver from ObamaCare, I want mine too. And I don't know about you, I want a waiver from the last two years of President Obama. Are you with me?"
Bachmann declared a federal healthcare plan is the "ultimate arrogance" from Washington as it demands Americans spend more and get less. And she boasted about her intent to take on the controversy with government-mandated light bulbs, by introducing the "Lightbulb Freedom of Choice Act." Also she disagreed with the idea that we need a "truce on social issues," vowing to fight since "social conservatism is fiscal conservatism."
In her final battle cry, Bachmann rallied the crowd, "America has made their decision, they've decided, we are going to take our country back . . . I'm in, you're in, we will take this back in 2012!" Whether she officially runs for President or not, with crowd-pleasing performances like this, (much to the chagrin of many) Bachmann will most likely continue to be "in" on the national conversation for a long time to come.
Watch the clip from C-SPAN below:

Have a tip we should know? tips@mediaite.com